Chapter Book – Ages 7-12
What do you do when you did something you wish you hadn't?
Whom do you turn to?
A ten-year-old Emily Bea visits Eckleberry's, her favorite neighborhood store in the small, super-friendly town in which she lives.
This particular day, she puts herself in a situation that shocks her.
Walk with Emily Bea as she makes hard choices that test her character.
Discover if she has the courage to make the right choices.
Then put yourself in her shoes . . . If you were Emily Bea, what choices would you make?
TEACHABLE MOMENTS THEMES
Honesty, Courage, Problem-solving, Personal responsibility, and Doing the right thing.
Kindle $2.99  –  Paper Back $9.95
**Check back for Companion Guide with Conversation Starters and Activities
Click on BUY button to see ALL THREE books in ALL FORMATS on Amazon.
---
Adult/Young Adult Book

How do you do life?
How do you live with more joy and less struggle?
How do you avoid the pitfalls that stop you in your tracks?
Navigation through life's corkscrew adventure can seem a bewildering process, but there are many ways to face the challenges and as a result feel happier, clearer and that your life matters.
Motivated by her desire to share what she wished she'd known earlier in life and informed by the incomparable work of minister, author, and international lecturer, Dr. Edna Lister, Lauren Burnett realized we need to be better prepared for how to do life. Now in this young adult book, Back Pocket Insights on How to Do Life, Lauren Burnett shares personal stories and insights on how to be and give your best, deepen relationships and navigate life with God on your side.
Insightful, uplifting, and often humorous, this young adult book is a memorable gift for graduations, birthdays, holidays, or "just because". The short stories enable bite-size reads and are a ready reference on how to make your way in life.
A key message is: "You are uniquely designed to create the life you desire with your magnificent mind, heart, and soul."
  $9.95 Paper Back – Kindle .99 for a limited time.
Click on BUY button to see ALL THREE books  in ALL FORMATS on Amazon.
---
CHECK OUT OUR OTHER WEBSITE for tools and insights on how to do life and our Sunday blog for adults and families.  NANASAYS.COM.
Free stuff for adults and kids.
---
CHILDREN'S and YOUNG ADULT PROGRAMS and AUTHOR VISITS

Arrange for a NANA VISIT  with Program – Fly So High: Creating and Singing from the Heart
A children's interactive program with movement, songs, and creative activities to inspire imagination and joy for Libraries, Churches, Schools, and Organizations. Want to schedule a program or learn more
Arrange for an author visit and program using "insights" from Back Pocket Insights on How to Do Life for discussion and for an author reading.
---
THREE CHILDREN'S BOOKS (FREE book companion guides on NanaSays.Com)
BOOKS

–

Marshmallow Toast, Fly So High, Loving God Lavishly
Inspire creativity, determination, and bonding between generations with imaginative text, beautiful watercolor illustrations, and uplifting songs as you follow the adventures of Nana and Elisa-Kay in our Nana Says Book Collection.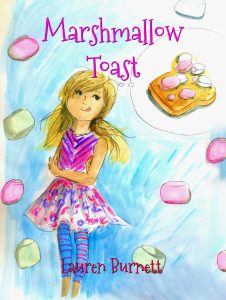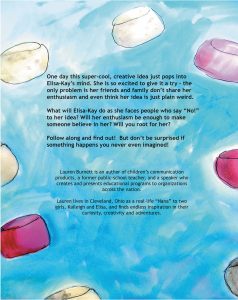 One day this super-cool, creative idea just pops into Elisa-Kay's mind. She is so excited to give it a try – the only problem is her friends and family don't share her enthusiasm and even think her idea is just plain weird.
What will Elisa-Kay do as she faces people who say "No!" to her idea?
Will her enthusiasm be enough to make someone believe in her?
Will you root for her?
Follow along and find out! But don't be surprised if something happens you never even imagined!
32 Pages of Hand-Painted Watercolor Illustrations, Text, and a Song
               $9.95  Soft Cover  —  $2.99 E-Book
Click on BUY button to see ALL THREE books in ALL FORMATS on Amazon.
REVIEWS
"As a proud Grandfather of five, I would wholeheartedly recommend "Marshmallow Toast". It was a fun read and filled with not only an engaging story but beautiful illustrations. I can't wait for more! With so many children's books out today,  please feel good that, as I believe, this book will become a favorite with your kids, grandkids, and on to next generations!"  —  Ken Goldblatt, father and grandpa
"A delightful read that subtly helps kids explore a plethora of feelings and also encourages creativity and determination! Just be sure to have a few select ingredients on hand; kids will surely want to try marshmallow toast after reading this one-of-a-kind story!!" – L.B., mom and teacher
---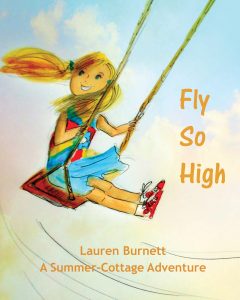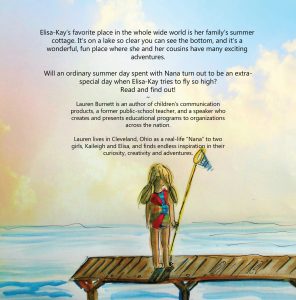 Elisa-Kay's favorite place in the whole wide world is her family's summer cottage. It's on a lake so clear you can see the bottom, and it's a wonderful, fun place where she and her cousins have many exciting adventures.
Will an ordinary summer day spent with Nana turn out to be an extra-special day when Elisa-Kay tries to fly so high?
Read and find out!
32 Pages of Hand-Painted Watercolor Illustrations, Text, and a Song
                    $9.95  Soft Cover —  E-Book $2.99
Click on BUY button to see all formats of ALL books on Amazon.  $9.41 for Softcover is reflected on Amazon.

I cried after I read "Fly So High". It reminded me of my own children's wonderful relationship with my parents when they were growing up. I loved this book as an educator, parent, and grandparent, and can't wait to read more books written by Lauren Burnett. — Laura Crossland, mom, grandmother and teacher.
                                                                                                                                                                                                                                                                                                                                                                                                                                                                                                                                                             A wonderful book! My 8-year-old loved reading it, and it brought me back the joys of being a child. Great illustrations too! — Kerry Lee Visci, mom

         Loving God Lavishly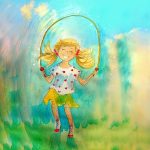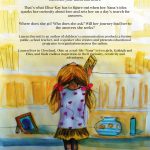 What would you do if you had a BIG question – a question that stretches your mind and heart – an important question?
That's what happens to Elisa-Kay when her Nana presents an idea that sparks her curiosity about loving and sets her on a day's search for answers.
Where does she go? Who does she ask? Will her journey lead to the answers she seeks?
32 Pages of Hand-Painted Watercolor Illustrations, Text, and a Song
                    $9.95  Soft Cover —  E-Book $2.99
Click on BUY button to see all formats for ALL  books on Amazon.

---
ABOUT THE AUTHOR
Lauren Burnett is an author of five books (three children's books, one chapter book and one adult/young adult book), a former public-school teacher, and a speaker who creates and presents educational programs to organizations across the nation. Lauren lives in Idaho and, as a real-life "Nana"  to two girls, Kaileigh and Elisa, finds endless inspiration in their curiosity, creativity, and adventures