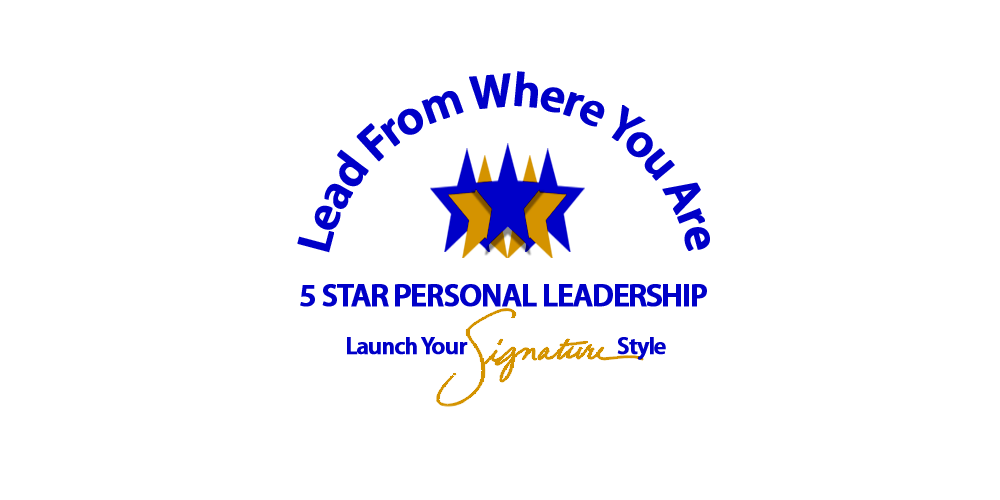 Here Is The Exciting Training YOU Need to Let Your Personal Leadership Style Emerge, Feel Confident and Comfortable as a Leader and Use Your Most Valued Beliefs To Naturally Inspire and Motivate Those Around You.
Immerse yourself in this Powerful 5 Day Personal Leadership Experience and learn to lead from where you are with confidence and authority. This eye-opening experience will liberate the leader in you and turn you into a 5-Star Leader others value.
The essence of this innovative program lets your leadership evolve from the inside out. You get the learning skills, mechanism and tools to help express who you are, what you stand for, and why it matters.
Advance with the Leadership information they don't teach in college
Learn how to be assured, assertive and comfortable in your skin
Discover and deepen knowledge of your own leadership style
Be able to communicate clearly who you are, what you stand for and why it matters
Become a confident and compelling speaker
Benefit from coaching and feedback on your visual presence, body language, presentation and facilitation skills
Easily earn respect and motivate others to excel
This 5 Star Personal Leadership program prepares you to lead no matter where you are or what you currently do. Develop an emerging, enriched picture of who you are as a leader, what you stand for, and what we can expect of your leadership. We give you the permission and knowledge you need to lead with confidence, authenticity and quiet authority.
It's really unfortunate. Many people I meet tell of how unsure and uncomfortable it can be to assume a leadership position and have industry skills but feel personally unprepared. They feel concern that they aren't up to the task. They worry they won't be able to motivate people, that they will do more harm than good.
You certainly have knowledge, experience, and skills that could benefit others in your organization and the world around you. What you need is how to put it all together in a way that feels right on the inside, present a consistent message of what matters, invoke a believable presence and learn smart techniques to easily lead, engage and inspire.
Our 5 Day Training Program is made up of one day modules.
SHAPE
Discover your personal leadership style through a 5-P Framework:
Passion
Philosophy
Purpose
Position
Presentation
We conduct leader-shaping activities, discussion and presentation to help you get clear about your leadership. You will build confidence and be able to share who you are as a leader. You will be sure of what you stand for and why you care. But most of all, you will know why it matters to the people you serve.
SERVE
Develop the emotional intelligence approach in leadership.
We learn about cutting-edge Emotional Intelligence and its relevancy to today's leader. You will identify brokerage of power, assess body language, and learn language strategies to make people want to embrace your ideas. Discover how to develop empathy and empower others through acknowledgment.
STYLE
Here you learn powerful strategies for creating rapport, connection, and receptivity in others. We cover interpersonal skill inventory, identify style strengths, vulnerabilities, and approach. Share your leadership preferences and relate to audience/team. Strategic momentum – facilitate groups/meetings, build consensus and encourage participation to achieve outcomes.
SPEAK
Perfect your speaking skills while becoming confident and compelling. Organize your thoughts for clarity. Support your key points in ways that encourage audiences to "buy-in" through logic and emotion. Paint memorable pictures using data points, stories, and comparisons. Learn to speak "value" – WHY vs. the WHAT. Receive tips and coaching on presence, presentation, and body language.
SHINE
Shine with vitality and resilience to increase energy and effectiveness under stress. Learn resiliency and work-life balance skills along with strategies to let your light shine. Articulate your own personal leadership story and style in a final speaking presentation. You will present your own personal leadership story that ties in the 5-P Elements.
Imagine building trust and rapport with others and presenting with confidence during:
Staff meetings
Articles
Committees
Provost/Director
Conferences
Performance reviews
Interviews
New hire trainings
Grant applications
Community events
Customer interactions
Board/Trustee meetings
Imagine realizing the benefits that other aspiring professionals gained from their 5-Star Personal Leadership experience…
Reserve YOUR place in the next 5 module sessions of the 5 Star Personal Leadership program. This is the inspiring and content-rich, experiential training you need to become an excellent leader.